Where can I find PEMF devices that work with the software?
PEMF devices that work with the software can be found at www.wellnesspemf.com
What versions of Windows are supported?
Waveomics™ software is only supported on PC's with Windows 10 Home or Windows 10 Pro installed. It will not work on a laptop or desktop PC with Windows 10-S installed.
How do I download the Waveomics™ software?
To download the Basic version of the Waveomics™ software, register on the site and login. After you login, go to Software/Download in the menu bar and select the Basic version you want to download. Click the download button that appears on the screen. Refer to video below for more information.
The Pro version is only available to licensed healthcare professionals and people outside the USA. If you are a licensed healthcare professional located in the USA, follow the steps on the home page to register as a healthcare professional. If you live outside the USA, complete the Webform. Once we verify your IP Address is outside the USA, you will have your login upgraded. Once your login is upgraded, the Pro version will appear in the Software tab. Refer to videos below for more information.
How do I update the Waveomics™ software?
Download New Software
Option 1
To download the latest version of Waveomics™ software, please log in to pulsedfrequency.com and navigate to Software/Download link at the top of the page that corresponds with your device. 
Option 2
Open the Waveomics™ software and click the blue Check for Updates button. It should begin downloading if there is a new version. If your version does not match the current version listed on the bottom of the home page and you get the message "Your software and file banks are up to date.", follow option 1
Install New Software
Run the installation file after downloading--be sure that your existing software is closed before installing the new version. 
Uninstall & Reinstall if You Encounter Errors
If you find that the new version has problems or errors, completely uninstall the software and then reinstall. Before uninstalling, you must backup your treatment files, as they will be deleted when uninstalling. See instructions above on backing up treatment files.
Does the Waveomics™ software work with Macs?
Waveomics™ software is only compatible with Windows 10. However, it may be possible to run on a Mac following the instructions in this guide.
Is there a list of Contraindications for PEMF frequencies?
Please refer to the following pdf for a list of contraindications.
How do I update version 2.68 of the Plasma software, it keeps failing?
There is a bug with version 2.68 of the Plasma software when trying to update from within the software. Please download the latest version of the software from this website under the Software/Download tab and manually update the software by running the PulsedFrequencyPlasma.exe. Once updated to the most current version, future updates should work as normal from inside the software.
I registered on the website, but never got my confirmation email. Where is it?
If you signed up for a new account or requested a forgotten password. An email with a one time login link will be sent from pulsedfrequency@gmail.com. If you do not see it in your Inbox within 3-5 minutes, please check your Spam folder. It was most likely marked as Spam.
Gmail has a warning message that the registration email could not be verified to come from pulsedfrequency@gmail.com, is it safe to click the link?
Yes. The email is sent from this website and not directly from the gmail account. The link is safe and is neccessary to login and setup your password. The email is not Spam or a phishing attempt.
What Wellness Programs come with the Basic software?
Please see our 28 Wellness Programs pdf
What's the source of the frequencies that you use in your PEMF devices?
We use only proven frequencies that we've derived from various sources, but 80% of them were discovered by Dr. Harry Van Gelder and Dr. Albert Abrams, two of the most knowledgeable authorities on frequency healing.
My MR7 keeps giving me a timeout error. How can I fix it?
To clear the error, simply press the power button on the MR7 and release it. You should hear a beep which indicates the error has been cleared. After clearing the error, browse to the compiler screen again and try loading the device. Please note, you will still receive an error if you try viewing the files in the MR7 ("View Frequency Files in Device" menu option) after clearing a device error--you will need to return to the compiler screen to reload, instead. 
Why can't I update my Waveomics™ software when I click on the "Check for Updates" button?
If you have an older version and the update function erroneously returns the message "Your software is currently up to date" even though there is a new version available. Then in order to take advantage of the newer version, you must update your software manually. This applies to all devices. Download the latest version of the software from this website and run the installation to manually upgrade.
Do I need to run the device detection program (Detect MR7, etc.) every time I want to load my device?
Not normally. The first time you detect your device, make sure you close the program before unplugging the device and you should not have to run the detection program again. Unless Auto Detect is being blocked by anti-virus or other security software.
What do the frequency file name suffixes represent, e.g., "CY", "EST", "NP"?
"CY" programs have Cymatic frequencies added to a Van Gelder set.
"EST" programs are established Van Gelder frequency sets.
"G" programs are frequency sets that were created by Dr. John Garvey.
"NP" programs are nasal probe frequency sets designed to run on the EM272's nasal probes.
"VG" programs designate these are Van Gelder frequencies ran in A/B pairs as taught by Carolyn McMakin.
"PA" programs are phased array programs, which are frequencies that are run in phase with each other. One frequency runs on three magnets while a second frequency runs on another three magnets. When a frequency is run on three magnets in close proximity of each other, the intensity increases five to ten times. These programs are used for deeper penetration.
I get an error message that it can't detect the device. How do I detect it?
1. (Most Common) MR7 in ON when trying to transfer a compiled file. Make sure the device is OFF before you try to load your device. The only devices that load with the power ON are the EM27 and EM272.
2. On a Windows 10 PC click the Windows Icon on bottom left corner of the screen. Scroll down to the Pulsed Frequency folder and expand it. Click on the Detect Device program that corresponds with your device's name. Make sure to start out with the device off and unplugged from the computer. Follow the prompts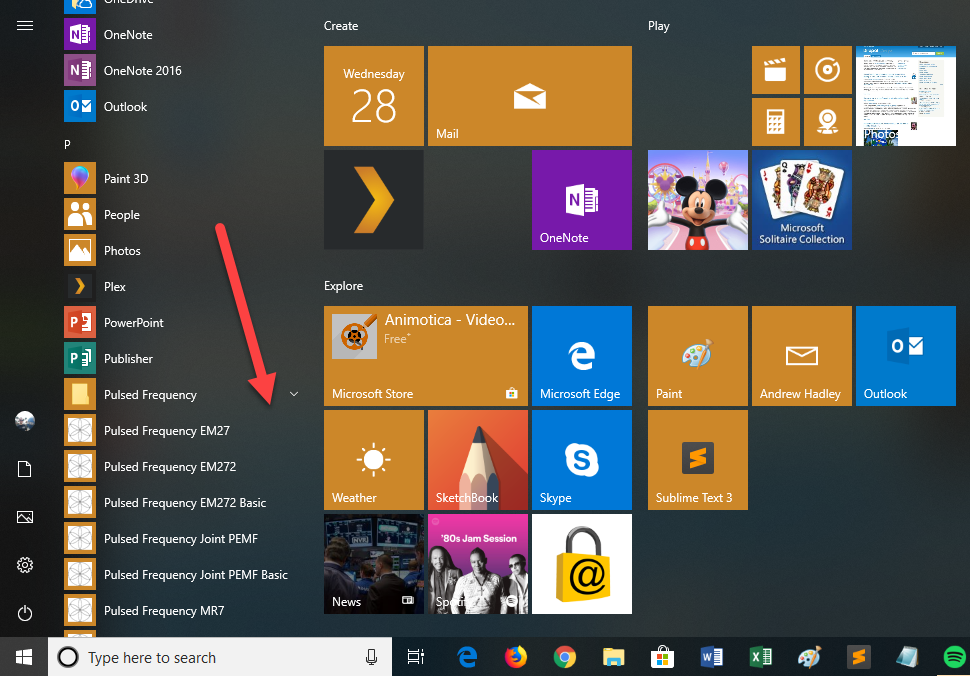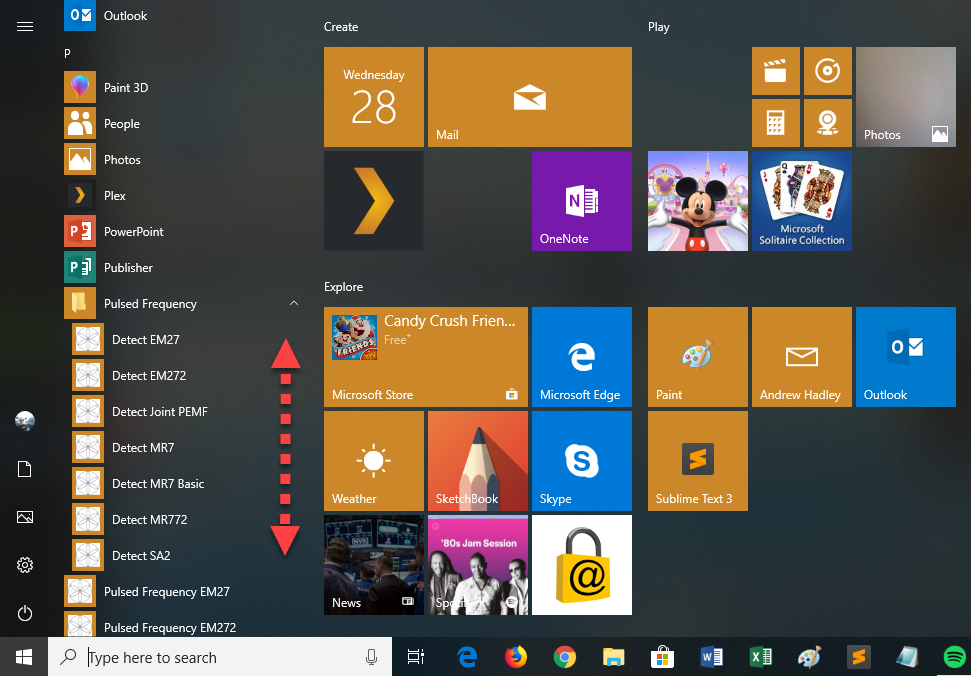 How do I copy my programs from my MR7, MR72, EM272 or Plasma software that I have created, to another computer?
Version 2.06 or greater
Plugin a external hard-drive or USB drive into PC. Open the software. Go to File Storage. Click Backup/Restore. Click Backup. Chose the software you want to backup on the left and select the external drive on the right. Click backup.
On the new PC, download and install the latest version of the software. Open the software. Go to File Storage. Click Backup/Restore. Click Restore. Chose the external drive on the left and select the software to restore on the right. Click restore.
Version 2.05 or less
On Windows 10 go to '' This PC" find the ''C: Drive". Scroll down to your device folder, such as ''PulsedFrequencyMR7. '' Open this folder and look for the ''MagBank ''folder. Copy this folder and Paste it to a USB drive.
Go to the new computer. Go to www.pulsedfrequency.com and Log in. Download the software for the desired device, in this case MR7 Pro. Once the software is installed, plug the USB drive into the new computer. Find the MagBank folder you pasted there and Copy it.
Go to the "C: Drive" of this computer, find the ''PulsedfrequencyMR7'' folder. Right click on it and Paste the MagBank folder. If it prompts you "There is already a folder with this name, would you like to overwrite it" click YES.
Now all the programs you have created in the old computer will be in the new computer when you open up the software.
Some of the programs have the suffix PA, standing for Phased Array, What is the concept of Phased Array?
The theory is when you put 3 antennas, in this case magnetic coils, in a close proximity and in a triangular pattern, it will change the signal. When the signal comes out of the separate magnets, they attract to each other and actually braid together, creating a single signal about 5X to 10X the strength or penetration of any single signal independently. Many times you will see radio towers next to each other, they are using this concept to boost their signal without having to put more power or height into a single tower.
Most of the phased array programs from pulsedfrequency.com are only running 2 frequencies at a time on the seven magnets. Running one frequency on magnets 2, 4, and 6 and another frequency on magnets 3, 5, and 7 creates the phased array signal effect.
I had access to Pro prior to the new registration changes, how do I reinstall?
If you got a device from www.wellnesspemf.com prior to the new registration changes, your login should have been upgraded automatically. Please login to your account and redownload the Pro software as needed. If these steps do not work please email info@wellnesspemf.com for assistance.
How do I manually backup my treatment/patient files?
Treatment/Patient File Backup
Before updating your software, you may wish to backup your treatment/patient files manually, even though the upgrade should automatically backup your files. If you haven't saved any treatment files, there's no need to back anything up. To backup your files, for the MR7 software browse to the folder: C:\Pulsed FrequencyMR7
For other devices, browse to the corresponding folder:
SA2 (Plasma): C:\PulsedFrequencyPlasma
EM27: C:\PulsedFrequencyEM27
MR772: C:\PulsedFrequencyMR772
EM272: C:\PulsedFrequencyEM272
MR72: C:\PulsedFrequencyMR72
Then copy the following folders and paste them somewhere else, like a new folder labeled "MR7Backup" on your desktop.
AudioBank folder (if present)
MagBank folder (if present)
File Bank Settings folder
Patient  folder
PatientList folder
app_settings.ini
device_settings.ini
FileBanksVersion.txt
After installing the new version of the software, you will be prompted to update your file banks. After your file banks are up to date, your software should be fully functional and your treatment files should appear in the Treatment Files screen. If you find that your treatment files are missing, simply copy the folders that you backed up and paste them back into the corresponding PulsedFrequency folder (see above) to overwrite the existing folders.
What is the meaning of the many abbreviations we find in program names?
Programs with suffix "NP" are written for the EM272 which has in addition to the 7-frequency magnetic disks, two laser lights that can be inserted in the nostrils or ears.  NP stands for "Nasal Probes."  Those "NP" programs have an additional two frequencies in each line of the program for the nasal/ear probes.  They usually contain the frequencies 40 or 49 Hz coupled with a frequency for a part if the brain (94 for example).
"Adv" stands for "Advanced."  For example, in the programs "Asthma Adv," which means "Asthma, Advanced" or "Advanced Asthma."
"THR" means "Total Hip Replacement."
"BPN" should be "BPH" which means "Benign Prostatic Hypertrophy."  We'll correct that error in the next version of the Magnetic Files and Audio Files upgrades.
"Rev" means "Revised."  That program is a revision of an earlier version.  We leave both the old and new programs so that users can give feedback on their effectiveness.
"G" at the end of a program name indicates that that program contains frequencies identified by John Garvey, ND, an extraordinary radionics practitioner who used to practice in North Carolina and is now practicing in Florida.   
Programs with the suffix "PA."  "PA" stands for "Phase Array."  It describes a program using only two frequencies which alternate in a seven coil array.  Frequency A is on coils 1, 3, 5, 7 and Frequency B is on coils 2, 4, 6.  "PA" programs concentrate only two frequencies and are, therefore, more powerful that 7-frequency programs. 
"GCAFL" – "G" refers to frequencies identified by John Garvey, ND (See #6 above.)  "CAFL" stands for the "Complete Annotated  Frequency List."  (See ElectroHerbalsim.com" for the complete list.  It can also be found in the "Frequencies" tab on the "PulsedFrequency.com" website.
"LTB" stands for "Ligament, Bone, Bursa." 
Lyme Programs:  "Lyme L" and "Lyme LH" were just named for the patients for whom they were written.  They could have as well been named "Lyme A" and "Lyme B."  Try them both and see how they work for you.  "Lyme PNS" means "Peripheral Nervous System."  "Lyme RMSF G" means "Lyme and Rocky Mountain Spotted Fever."  The "G" means this program contains frequencies developed by John Garvey (See #8 above.).
"MLTB" stands for "Muscle, Ligament, Bone, Bursa." 
What does "MenMod" mean.  The "Men" part refers to a proper name.  The "Mod" part means "Modification."  This is a modification of an existing program (in this case Vertigo Midbrain) by the "Men" group.
Why do the EM272B, MagRez, MR7, & MR72 Pro software links have *'s around them?
These are our most common downloads, so we use *'s to make them stick out.